Updated: 11/17/00
1928 South Bend 11" Lathe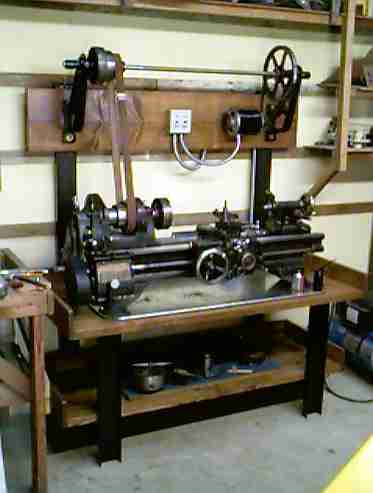 This is my 1928 South Bend 11" lathe. It is a model 84A with a 48" bed and a quick change gear box. I built the stand and table but the lath is excellent, original, and unrestored. I almost bought a 9" imported lathe but found this instead and am very pleased with the performance. A good quality, 78 year old lathe works better than most new lathes.
The stand is loosely modeled after drawings in the 1928 South Bend manual. I attempted to keep the "vintage" look but still implemented my own improvements. The stand is made of 4" steel channel. I designed an adjustable tensioner for the countershaft similar to a motorcycle chain tensioner. The motor is a 1960's GE 1hp saw motor. I plan on installing a variable speed DC drive in the future.
The wood is lumber grade Douglas Fir with an "Early American" stain and polyurethane finish. As I soon learned, you should age lumber before using it in this type of application as it can quickly shrink and develop cracks.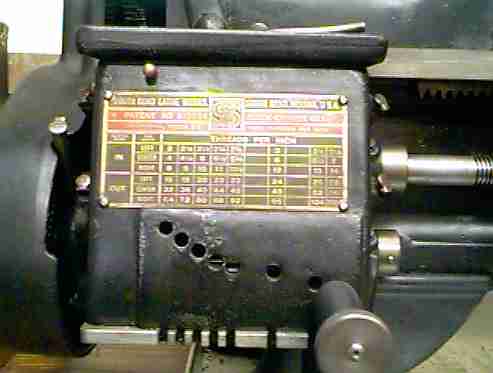 South Bend Lathe Specifications

Origin
South Bend, Indiana, U.S.A.
Date of Manufacture
1928
Model
84A
Swing Over Bed
11-1/4"
Length of Bed
48"
Between Centers
24"
Hole Thru Spindle
7/8"
Swing Over Carraige
7-5/8"
Power Required
1/2hp (motor not inlcuded)
Weight Crated
625 lbs.
Net Factory Cost
$349 (1930)
Threading
2-112 tpi (48 different threads)
Motor
GE, 1hp, 1725rpm, 115vac, 60hz, 1 phase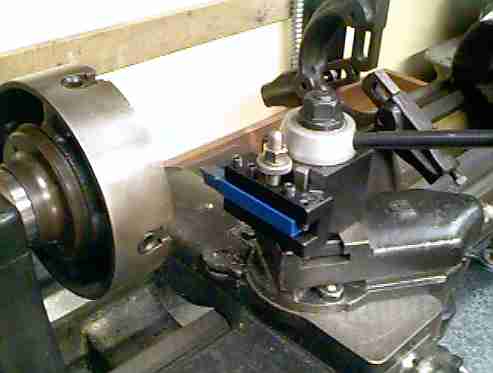 After using the lathe a little, I did make some "modern" concessions. I switched to a quick change tool post. It saves a lot of time and fiddling for most operations.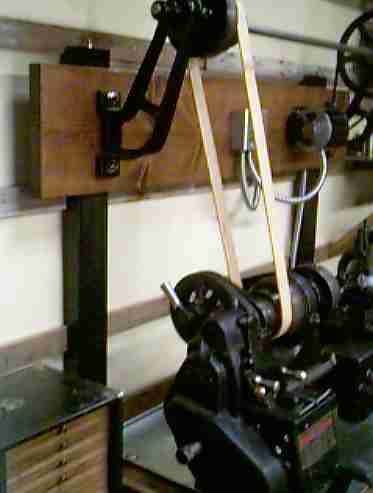 I used the leather belt originally, held together with clips and a pin. The belt could be easily removed but it did make a slight tick/thunk as it went around. I found some synthetic leather belting at the local equipment store. The thickness tolerance is tighter than the leather belt. I skived the ends on the mill and glued the belt after installation. I used contact cement and clamped it between two wood blocks until it set. Next time I'll try some other clamping arrangement as the pressure made the joint creep a small amount. Even so, it runs smoother and quieter now. The only drawback is that now the belt must be cut to remove it. Not a real problem since the belt does not normally have to be removed.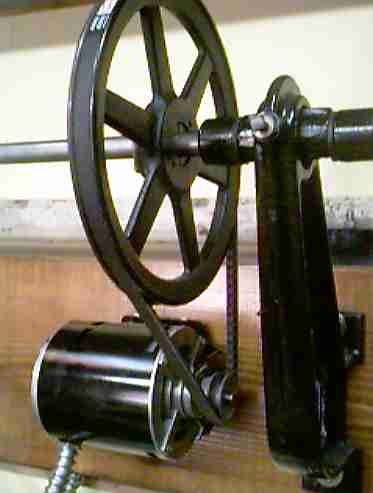 The motor has a slotted base to adjust the v-belt tension. You can also see the flat belt vertical adjuster on top of the upright that supports the backboard. All bearings are plain, even the countershaft. There is a small reservoir cast into the top of each countershaft journal. There is a felt wick between the reservoir and the 7/8" shaft. They must be oiled periodically.
| Design Pacifica |